When Bad Things Happen to Good People

The book When Bad Things Happen to Good People by Rabbi Harold S. Kushner is a book which I would highly like to recommend, since it has brought comfort to many people.
The book doesn't deal with diabetes at all, but it can give a relief to those who are in the first phase after they have been diagnosed as diabetic and ask themselves "why this bad thing happend to me?"
Rabbi Kushner, a wonderful man and a great writer, is trying to help here people who have experienced the untimely loss of a loved one, or been through any traumatizing life experience, in his own personal, thought-provoking, well-written, and very easy to understand way.
The thousands of people who read this book will assure you that it really helped them.
Rabbi Kushner belongs to the Reconstructionist Judaism movement which views Judaism in a more modern way and renounces from any supernatural elements.
Rabbi Kushner gives here his original and profound perspective approach, seeing God as the impulse in us that brings out our best traits and leads to live honestly and ethically.
It does not see God as an all-powerful father figure in the sky, who is responsible for all people's lives and let horrible things happen to us.
The book can be good also for readers who just want answers about God, how we should relate to him, what to do about all the things that happen to us during our lives and what is the meaning of things that happen in our life.
This is an enormously powerful book which does not aim only to spiritual or religious people.
Anyone who will read this book will feel like the author had invisibly witnessed the events of his life and came here to comfort him personally.
It is highly recommended.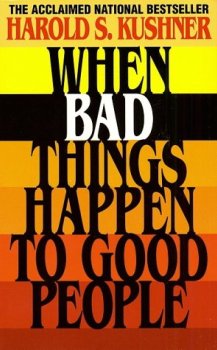 ---