Beef with Mushrooms and Wine


Beef with mushrooms and wine is a tasty, rich and appetizing recipe.
It can be great with mash potatoes or noodles on side.


6 servings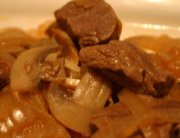 Ingredients

Canola oil spray
2 lbs beef, cubed
1 lbs canned mushrooms
1 onion , chopped
2 tbs mushroom powder soup
2 tbs onion powder soup
1 cup red wine
Directions
Preheat the oven to 350°F/180°C
Spray some oil in a pan and fry the onion until it is golden.
Add the mushrooms to the pan.
Pour the pan contents to a baking dish.
Add the mushroom soup, the onion soup, the wine and the beef and stir.
Cook for 2 hours.
Uncover the last 1/2 hr so the liquid will cook down.
Serve over noodles or mash potatoes.
---