How to Test Blood Sugar Levels

You should test blood sugar levels by yourself if you want to achieve a good independent control of your diabetes.
The self testing requires only a little drop of blood which you can obtain by a small prick in the finger.
It will not cause you almost any pain.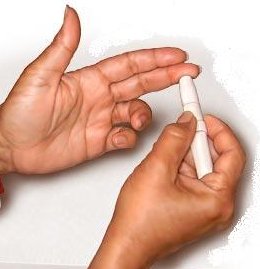 Here is the best way to do it:
Wash your hands and dry them well before doing the test.
Use an alcohol pad to clean the area that you're going to prick.
Ask your doctor what area you should use with your meter.
You get a drop of blood from your fingertip, or you can also use your forearm, thigh or the fleshy part of your hand.
Prick yourself with a sterile lancet to get a drop of blood.
(If you prick your fingertip, it may be easier and less painful to prick it on one side, not on the pad.)
Place the drop of blood on the test strip.
Follow the instructions for inserting the test strip into the glucose meter.
The meter will give you a number for your blood glucose level.
Follow your doctor's advice and the instructions that come with your glucose meter.
In general, you will follow as I instructed you above.
Different glucose meters work differently, so be sure to check with your doctor for advice specifically for you.
---