Caesar Salad Sandwich


Caesar salad sandwich is a light and a tasty sandwich.
It is great for family picnics or summer light foods if desired


6 servings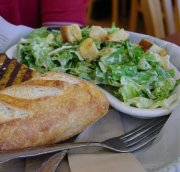 Ingredients

6 medium hard rolls (preferably whole grain)
3 cups torn romaine lettuce
1/2 cup fat-free Caesar salad dressing
1/3 cup grated fresh Parmesan cheese
1 1/2 pounds chicken breasts cut into strips
about 3 inches long
2 tsp. olive oil
Directions
Set the oven on broil.
Cut each roll in half and scoop out the dough to form
a pocket in one side of the bread.
Mix the lettuce, dressing, and cheese in a bowl.
Place the chicken strips on a broiler pan and brush with the olive oil.
Broil the strips of chicken for a total of about 7 minutes, turning once.
Add the chicken to the salad and pile the mixture into the bread pocket.
Top with the other half of bread and serve.
---