4 servings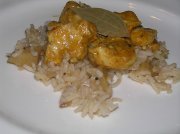 Ingredients

4 halves chicken breast, boneless (remove skin)
1 tbs. olive oil
1 medium onion, sliced
1/3 cup golden raisins (optional)
1/4 cup toasted, slivered almonds
Salt and ground pepper
1 1/2 tsp. yellow curry powder, or to taste
1 cup yogurt
Minced parsley for garnish
Directions
Preheat a large skillet over medium high heat and put oil in it.
When hot, add the onions (and optional raisins), sprinkle with some salt and pepper, and cook, stirring occasionally, until translucent, about 5 minutes.
Turn the heat down to medium, sprinkle with half of the curry powder, and continue to cook a minute or two.
Season the chicken with salt and pepper and sprinkle it with the remaining curry powder.
Move the onion to one side of the skillet and add the chicken in one layer.
Cook for about 2 minutes on each side.
Transfer to a plate.
Add the yogurt and stir constantly over medium-low heat until the mixture is nice and thick.
(Be careful not to bring to a simmer or the yogurt will curdle).
Return the chicken to the skillet and cook for a couple more minutes, or until cooked through, turning once.
Sprinkle with the toasted almonds, garnish with cilantro or parsley and serve with rice.