Chicken with Rice and Mushrooms


Chicken with rice and mushrooms is a low calories and low cholesterol recipe but yet
it's a tasty and a filling dish.
The recipe's origin is from the orient but today it's not less popular in the western cuisine.


2 servings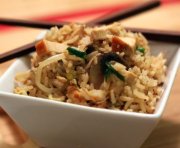 Ingredients

2 chicken breasts
1 onion, chopped
1 garlic clove
5 mushrooms, chopped
1/2 cup rice
1 vegetable or chicken stock cube
Directions
Fry on a pan the onion and garlic.
Dice the chicken and add that to the pan, fry.
Add the chopped up mushrooms.
Boil water and add the stock cube in a jug.
Add rice and the stock to the pan, just enough to cover the mixture.
Simmer till the mixture has gone thick and creamy.
---