6 servings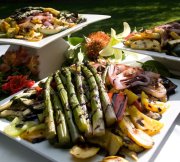 Ingredients

1/4 cup olive oil
1/4 cup balsamic vinegar
3 cloves garlic, crushed
2 tsp. fresh rosemary, minced
1 tsp. fresh basil, minced
2 tsp. lemon peel
1 fennel bulb
2 Belgian endives, halved lengthwise
1 small zucchini,
cut diagonally into 2 inch slices
1 small red onion,
cut into 6 slices, 2 inch thick
salt and pepper
Directions
Mash the garlic, rosemary, basil, lemon peel, salt and pepper,
the vinegar and olive oil in a blender until smooth.
Set aside.
In a large pot of boiling water, parboil the fennel for 5 minutes.
Drain. Place all the vegetables in a glass dish.
Cover with the marinade and marinate for 15 minutes.
Prepare an outside grill with an oiled rack set 4 inches above the heat source.
On a gas grill, set the heat to high.
Add the vegetables to an oiled, wired-hinged vegetable basket.
Grill, turning constantly, for 15-20 minutes until the vegetables are slightly charred.