Real Life – Guide to Diabetes

"Real Life – Guide to Diabetes" is a new and fresh book about diabetes but not just like the others.
The book is loaded, not only with information, but also with color pictures, tips, and solutions.
The authors are Hope Warshaw and Joy Pape.
Hope and Joy are both Certified Diabetes Educators with tons of experience and have been the authors of many books on Diabetes care.
Joy is also a Type 1, herself, so she knows the difficulties of living with diabetes.
The book was designed to be comprehensive and easy to read, and is one of the information sources of diabetes which has everything you need to know, all in one place.
This book gives you hope, hope that even though you've been diagnosed with diabetes, you can still live a pretty normal life and reduce complications of diabetes.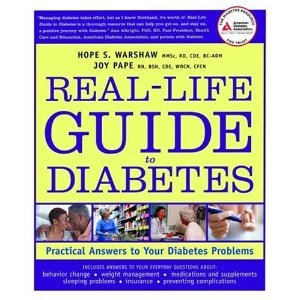 ---