Salad Dressing


A simple recipe of salad dressing with only 3 ingredients.
You can mix and add it to your salad,
or even to revive the old salad leftovers from yesterday.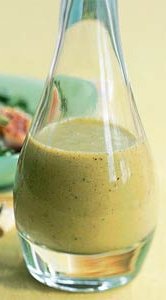 Ingredients

1/2 cup olive oil or canola oil
1/2 lemon
1/2 tsp mustard
Directions
Pour the oil in a bowl.
Squeeze in the juice of the half lemon.
Add the mustard.
Mix it all with a teaspoon.
Add it to your salad (great with rocket leaves).



This is the basic recipe of a dressing for a salad.
You can enrich this recipe if you desire:
Start with adding some salt and ground black pepper.
Then, you can add 2 minced garlic cloves.
You can add 1 tsp. of balsamic vinegar and 2 tsp. of honey.
If it's too sour, you can replace the 1/2 lemon with 1/2 orange.
One tbsp. of Worcestershire sauce can also be great.
Try it!
---