Steak in Mustard and Honey


Steak in mustard and honey is a very simple and basic recipe for all the plain steak lovers.
It's perfect for Saturdays and barbecue days.

6 servings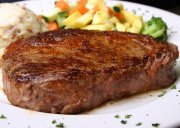 Ingredients

1 1/2 pounds top sirloin steak trimmed of fat
Sauce
1/2 cup spicy brown mustard
2 tbsp. apple juice concentrate
1 tsp. cinnamon
1 tbsp. honey
Directions
Mix ingredients together for sauce.
Prepare an outdoor grill with an oiled rack set 6 inches from the coals.
Brush one side of steak with the mustard sauce.
Grill and turn, adding more sauce.
Grill to desired doneness: 14 minutes for rare (140 degrees),
20 minutes for medium (160 degrees),
or 26 minutes (170 degrees) for well done.
Slice thinly and serve.
---